In this article, you can read how you might get your fingers on a "cheap" Original Papa Bear Chair by Hans J. Wegner. How much does it cost to restore a Papa Bear Chair and why does everyone think the Papa Bear Chair is so amazing.
Does that sound interesting? Then just keep on reading. As of writing this article the price of a new Papa Bear Chair by Hans J. Wegner is approximately $18,400 – and that is USD not Canadian.
List to article here in this video:
Papa Bear Chair by Hans J. Wegner – 1951 – AP19 – PP19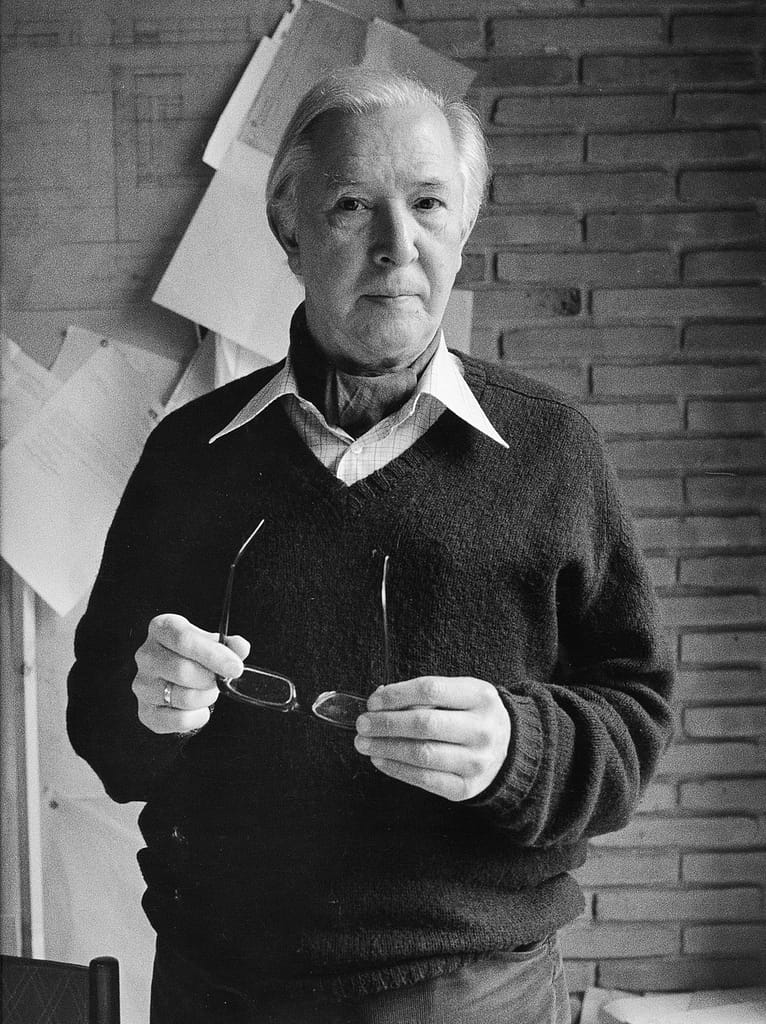 We will take quick info round before we dive deeper, and there are some good reasons why.
The original Papa Bear Chair was designed in Denmark in 1951 by Hans Jørgensen Wegner for AP Stolen and thereby got its model number AP19. In 1953 PP Møbler became a sub-contractor producing the wood frame for the AP19 chair and AP Stolen produced the chair for a number of years. In 2003, where the chair had been out of production for a few years, PP Møbler began producing the chair again for their 50 years anniversary of their first involvement with the Papa Bear Chair.
The chair that is produced today is therefore called the PP19, and not AP19. It is good to know if you are looking for an original Papa Bear Chair at a bargain price.
The reason why the AP19 got the name "Papa Bear Chair" came from a journalist who was assigned to write a review of the chair. He got the feeling that the chair was hugging him and that it had "paws" where his hands were resting. The reporter thereby named it the "Papa Bear Chair". The director of AP Møbler Anker Petersen, thought that it was a good name, and so it came to be that the iconic lounge chair got its name.
A Really Cheap Wegner Papa Bear Chair Does Not Exist, But There Maybe a Way …
If you MUST own an original Papa Bear Chair
But think that $10-12.000 is a little too much for a beautifully but used AP19.
You have to arm yourself with patience.
The first thing you need to do is set aside a minimum of $ 6.000 in an account so that you can pay for a good deal at any time when you meet it.
The next thing you need to do is create search agents on various sales platforms so that you are notified the second a cheap Teddy Bear chair is put up for sale.
How to Identify An Original Papa Bear Chair
Lastly, you need to know how to verify that it is a genuine Wegner Papa Bear Chair and not cheap reproduction you are holding. You can ask the seller if it is an original Wegner and then check under the chair for any emblems, badges or serial numbers from AP Stolen, PP Møbler Or Illums Bolighus København.
Lastly, do not confuse it with Svend Skipper's Papa Bear Chair which was also designed in Scandinavia in the '50s.
Wait And Be Patient – A Papa Bear Chair Is Worth Waiting For
It usually takes a long time when you are on a "real" deal hunt, and it is not unheard of that it can take over a year.
Last time I had to find a Wegner chair (CH07) that would fit within my budget, I waited about 5 months before finding one at the right price.
If you go to 1stdibs.com you can find a variety of Papa Bear Chairs at around the $10.000 mark plus various fees. I am pretty sure you can find a specimen at a better price, you just have to be patient and remember to set up your automated "watch" alerts on the various sites.
In Scandinavia, it is more or less impossible to find designer furniture at bargain prices. But moving away from the "source" (fx. The US) should give you a better chance of finding these hidden gems, and scooping them up at net price.
What Does Restoration Of a Teddy Bear Chair Cost?
Getting a Papa Bear Chair Re-upholstered
It will cost you about $1200-1600 to get a Papa Bear Chair fully re-upholstered.
$1200 for a fabric workover and $1600 if you want leather. On top of that, you need to buy fabric. I would suggest an "Original" Kvadrat Hallingdal 130 fabric like this one
The Kvadrat Hallingdal fabric by Nanna Ditzel is the fabric that a new original Papa Bear Chair ships with here in 2019 
I would personally never choose leather for a Teddy Bear Chair, but that is my opinion, you choose as you desire.
A Skipper Or a Wegner Papa Bear Chair
Teddy Bear Chair vs Teddy Bear Chair
A Papa Bear Chair by respectively Svend Skipper and Hans J. Wegner may look a little alike, but they are not identical. And the price will show the difference. With a list price of approx. $3500 Svend Skippers version is about 6 times cheaper. The skipper's chair has wood all around the paws, where the Wegner is upholstered on the underside. Skipper has one set of buttons, Wegner's has a grid of 4 by 3 and the general shape around the head is also slightly different. Is it uppish that Wegner's Papa Bear Chair is so expensive? Definitely. But it is also one of the reasons why it is so sought after.
Why Are People So Excited About the Papa Bear Chair?
The simple answer is…
It is the world's best armchair. Period. You will not find a chair that is so incredibly comfortable to sit in, and at the same time exudes elegance and character as this chair does. You can watch television in it. You can immerse yourself in a book. You can meditate. You can sit across in it. And you can sleep effortlessly in it. It's just the perfect armchair. You may find other armchairs that can be good, but none has the same comfort level as an original Papa Bear Chair. It is the combination of quality, comfort and the insanely high price that makes this chair one of the most sought-after design classics on the market right now.
Remember, only buy what you can afford, and never lend to acquire "stuff".
Have an awesome day.
Hans T.